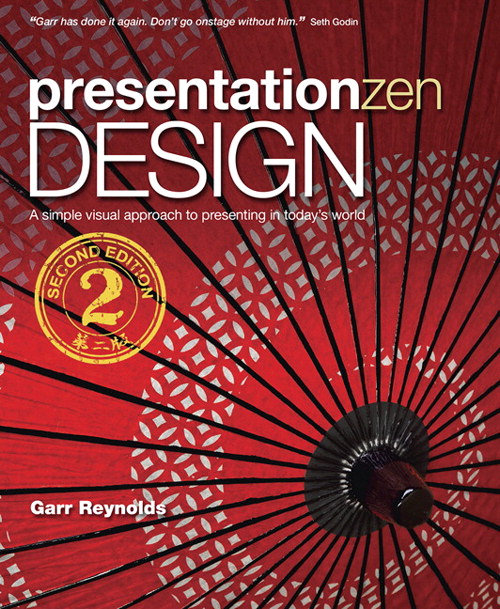 In this review, I am examining the book Presentation Zen Design: Simple Design Principles and Techniques To Enhance Your Presentations, second edition by Garr Reynolds. The first edition of this book was published shortly after the author's standout book, Presentation Zen: Simple Ideas on Presentation Design and Delivery.
While Presentation Zen is an excellent introduction to the author's approach, in this book, Reynolds goes into much more detail about the presentation design process. What I like most about the book is that it is packed with examples in each chapter. Making it really easy to see the concept in practice.
The book is organized into five sections: Introduction, Components, Principles, The journey, and Continuous improvement. Each section has a varying number of chapters. However, the content is exactly what it needs to be to convey the overall concept and specific techniques. At first glance the book appears heftier and more complex than its predecessor, it isn't. True to the design aesthetic and approach of the author, the book is easy to use and read. The heft comes from the numerous examples on almost every page.
Section One: Introduction – Chapter One: Design matters
In the introduction Garr Reynolds really focuses on the fact that this is not for professionally trained designers but for people such as educators, business people, leaders of organizations, and even students to use it as a way to create better presentations. He highlights that after reading the book you should be able to
understand some basic concepts of graphic design allowing you to work more effectively with professional designers
create better visuals
communicate better in your presentations
The Reynolds highlights that design is really about finding solutions and using visual to connect with the audience at the emotional level. He reminders the reader that simplicity is always the goal but to remember it is difficult to accomplish. The utilization of design principles with their structure does make the process easier for those designing and more so for those seeing and reading.
Section Two: Components
The section called Components is the largest section of the books and includes five chapters: Presenting with type, Communicating with color, Using images to tell stories, Making an impact with video, and Simplifying the data. As indicated by each chapter's title, this section goes in depth about what to consider for element that may appear in your presentation or on your slide deck.
In Presenting with type, the author states "that type is both an aesthetic quality and the function… When you put a word into type, you have given in a visual form while the verbal meeting remains." With the key takeaway being to "always design for the last row," this chapter gives advice and examples on typeface choice, placement, and combining with images. While working with different fonts can be fun, Reynolds reminds the reader to make sure to use proper punctuation and grammar. And always check your spelling. Err with these and your authority and credibility can be instantly lost.
For many working with color can be the most exciting and yet the most daunting. We've all seen the horrible color combinations like puke green with poop brown (sorry if I made you gag!) or beige on beige on beige. In the chapter, Communicating with color, Reynolds explains color theory, selection, and use based on the tenants of the Zen aesthetic, while emphasizing "simplicity and the idea of maximum effect with minimal means." Bountiful examples provide great tips like warm colors usually pop out of a slide so are best for foregrounds and cool colors typically fall backwards into a slide and are best for backgrounds. The author reminds the reader that there are numerous resources on the web, many free, to test and create color combinations.
One of my favorite parts about creating a slide deck is the use of images. In the chapter, Using images to tell stories, Garr Reynolds strongly emphasizes that images are not decoration or ornaments rather they make your point more concrete, convey emotion, or simplify a complex idea. As in the other chapters, the numerous examples showcase the many different ways images can be used.
With the success of YouTube and integration of streaming video into our lives, it is not surprising there is a chapter dedicated to using them. In, Making an impact with video, the author explains how videos can make a presentation more engaging along with tips and techniques to use them effectively. A key takeaway is that the video need to relevant and related to your story and main point. While a quick 60-second kitten video is at first charming, it quickly loses its charm and only becomes a distraction for the audience.
For many of us, data is an important component to help us convey our story and support our message. Unfortunately, many presenters pack too much data on slide after slide making it impossible for the audience zero in on what is most important. Many people report the tedium of looking at slide after slide of overly details charts and graphs is the number one contributor to a "death by PowerPoint" experience. It is not surprising, Reynolds devotes an entire chapter, Simplifying the data, to methods for reducing what he calls "visual noise." The bountifully examples show how a presenter can use the three fundamental principles of using data: restrain, reduce, emphasize. And for those worried about not providing enough detail, Reynolds provides the simple solution of creating handouts or a packet for the complex charts and graphs.
Section Three: Components
In the next section, Principles, the chapters focus on seeing and using space, creating purpose and focus, and achieving harmony. In the chapter, Seeing and using space, Reynolds talks about why empty space (often called white space) is essential to good design. Through examples, the author shows how empty space create distinction and emphasis all with the goal of helping the audience see and understand what is most important.
In Creating purpose and focus, the author reveals why bullet points go against our natural inclination to scan and find patterns first to discern meaning. He reminds us that it is very difficult for a person to read and listen at the same time. As a result, the purpose of a slide is draw attention so it can then allow the audience to focus on your message.
In the last chapter of this section, Achieving harmony, The author emphasizes that "every individual slide and every slide deck should feel like it is part of a unified whole." Through a variety of visual design cues and techniques, Reynolds shows how consistent use of type, alignment, and color can achieve harmony. And as always, emphasizing simplicity.
Section Four: The Journey
In the last section, The journey, Garr Reynolds provides several slide deck samples that utilize the principles and techniques discussed in the previous chapters. Reminding the reader to have a unified design theme, avoid clutter, opt for simplicity over complicated, and to identify ways to emotionally connect with your audience. Lastly, he reminds us to be aware of our surrounding and draw from everyday examples. Examine and analyze bad design when you see it and try to mimic good design. First and foremost, iterates that this a journey and learning process so be patient with yourself as you develop your skills in becoming a Zen presentation designer.